I will write here from time to time about things I feel strongly enough about. I am a professor of mathematics in London. Like my namesake in Richard Brautigan's novel The Hawkline Monster: A Gothic Western, I like to count things:
I count a lot of things that there's no need to count. Just because that's the way I am. But I count all the things that need to be counted.
The tagline is the start of an abecedarian poem (one word beginning with each letter of the alphabet in turn) by JoAnne Growney. I love it and thank her for letting me use it here.
What's on this blog? If you go to the contents page, you will find an annotated list of the posts, categorised in what I hope is a helpful way.
Other stuff, such as my publications, lecture notes, timetable, photographs taken on walks, etc. can be found on my personal web page.
I began the blog on 13 May 2009, as a practice run; I had been asked to take over the administration of another blog and wanted to make my first mistakes in private. Since then, it has helped me keep my sanity amid the crazy things that sometimes go on in academic life. (It is no coincidence that material for posting here lives in a directory called "rants" on my computer.)
In August 2010 my blog was in the top 50 mathematical blogs sponsored by Online PhD Programs; and Gaurav Tiwari did me the honour of making it his blog of the month for August 2011, on his Digital Notebook. JoAnne Growney has a paper in the Journal of Humanistic Mathematics entitled "Looking at Math Blogs"; mine is one of those she looks at.
In September 2016 I was awarded a gong by Feedspot: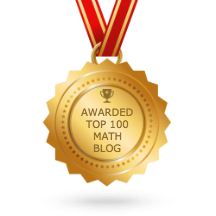 I also feature as one of the London Mathematical Society's research links, and in an interview on the MathBlogging site.
A little more information is in "About" expanded, and if you want to read the first chapter of my autobiography, it is here.
Recently, I moved my collection of quotes about mathematics here.