There is, I believe, a great resource for mathematicians called MathOverflow. I have never made much use of it. I am not quite sure why, but I think it is because of the competitive aspect: give a good answer, earn points. More and more as I get older, I do mathematics because I enjoy it, and tell people about it because I enjoy that too.
So, with a little unease, I note here that this blog has been voted number 50 in the Feedspot top 100 mathematics blogs: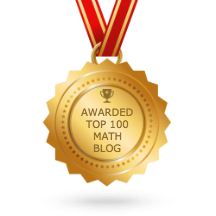 Click on the icon to see the full list.